Welcome to The Pear Orchard
Nestled on the sprawling 4 acres of the foothills of Uttarakhand Valley, a quiet and beautiful forest grove with a captivating natural ambiance, The Countryside resort is a luxury abode that offers 12 luxurious cottages with all modern amenities. Wake to birdsong and beautiful views as you soak in the blissful ambiance. The green foliage and the crisp mountain air will refresh your senses.
Just at a distance of 300 meters from Naukuchiatal Lake, The resort gives you room for indulgence galore. For the outdoor soul, activities like early morning nature walk - under expert guidance, cycling, Paragliding, and well-planned picnics amidst the valley are available. Relax, Indulge, and soak in the fresh air of the surroundings. Gorge on the mouthwatering dishes prepared by our expert kitchen team at The "Rock Pepper Cafe" and if you like to be tipsy then head to our adjacent " Tipsy Bar - Barporium" stocked with all premium brands. A Conference hall "Hive" is also available with all modern facilities for a perfect business event and social celebrations.
Find your escape. Come, experience the sound of silence at The Countryside Resort.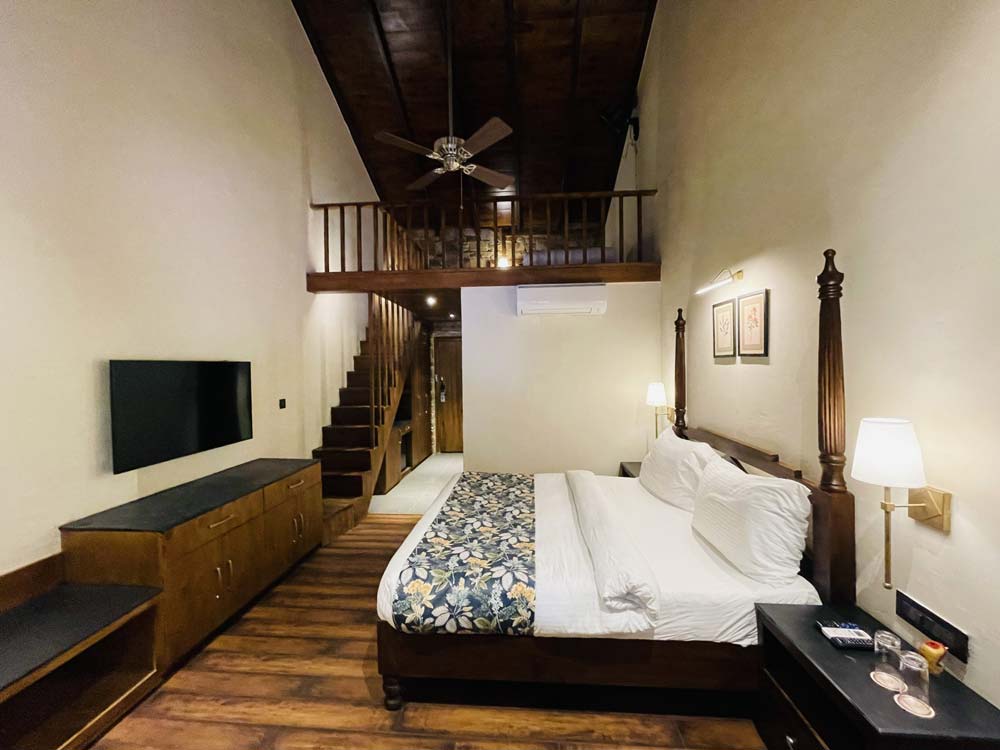 Luxury Family Cottage
Family Room in a Bungalow
Room Amenities
Resort Activities
At The Pear Orchard, we want to make every moment of our guests worthwhile. With the range of amazing in-house & outdoor activities offered, our guests can recreate their best childhood memories and make new ones.
Outdoor
Bird watching

Boating

Horse Riding

Paragliding

Zipline

Zorbing

Hiking

Kayaking

Hot air balloon

Cycling

In House
Ludo

Carrom

Chess

Playing Cards

Snake & Ladder

Badminton
Please Contact Us